The United Republic of Tanzania is located in the East Africa and it is bordered by Uganda, Kenya, Mozambique, Malawi, Zambia, Rwanda, Burundi and the Democratic Republic of Congo. Tanzania's population is 58 million and its GDP is $42 Billion. 
Tanzania gained independence from the United Kingdom in 1963 and current constitution was established in 1977. Tanzania does not have an official language, however Swahili and English are used nationally. More than 100 local languages are spoken in diffeernt regions of Tanzania. Its capital city is Dodoma, however Dar es Salaam is the largest city with 5 million population. The main commercial ports and industrial zones are located in Dar es Salaam.
Tanzania's main import partner is China with 21% of total imports. China is followed by India with 15% share. Tanzania has vast gold resources and gold accounted for 30% of total exports in 2017. Agricultural products drive the economy of Tanzania, especially nuts. 
The first Turkish Embassy in Dar es Salaam was first opened in 1979. There has been Turkish Airlines direct flights between Istanbul and Dar es Salaam since 2010 and it impacted the relations between Turkey and Tanzania. Turkish businessmen visit Tanzania on many occasions to explore opportunities. In 2018, agricultural machine companies attended a forum in Dar es Salaam to establish new connections. Turkey's exports to Tanzania reached $100 Million in 2017. The agriculture and construction sectors are the main areas to be focused on.
Below, you can see the fact sheet, macroeconomic outlook and trade relations of Tanzania with Turkey.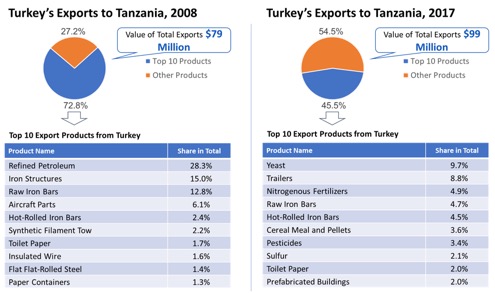 Read our latest article if you are interested in importing products and machines from Turkey.
Trade with African Countries
Read our latest article if you are interested in import and export activities with African countries.