Located in the South-Central Africa, Angola is bordered by Namibia, Democratic Republic of Congo and Zambia. It has a population of 30 million people and its economic output is $124 Billion. Angola has vast mineral and petroleum reserves, which increases the growth rate of its economy. Angola is a member of the United Nations, OPEC, African Union, the Community of Portuguese Language Countries, and the Southern African Development Community.
Angola gained independence from Portugal in 1975 and it became a member of United nations in 1976. The official language of Angola is Portuguese and its capital city is Luanda. Angola's economy is mostly driven by oil sector. Oil production and its supporting activities constitute approximately 50% of GDP, more than 70% of government revenue, and more than 90% of the country's exports.
Angola's main trade partner in both imports and exports is China. Angola's 97% of exports to China is crude petroleum. In return, Angola imports diverse set of products from China, including buses, footwear and electronics. Portugal is the second import partner of Angola thanks to the historical relationships and the imports from Portugal are concentrated in chemicals and food.
Turkey and Angola established diplomatic relations in 1980. Turkey's exports to Angola concentrate on food sector, such as pasta, wheat flours, yeast and poultry meat. Angola imports almost 50% of its food from foreign countries, and we advise our clients to focus on the food products.  In 2017, the 1st Session of the Joint Commission on Trade, Economic and Technical Cooperation between Angola and Turkey took place in the Angolan capital. Turkey was represented by Minister of Customs and Trade, Bulent Tufenkci.
Below, you can see the fact sheet, macroeconomic outlook and trade relations of Angola with Turkey.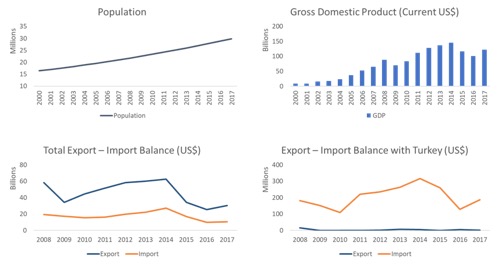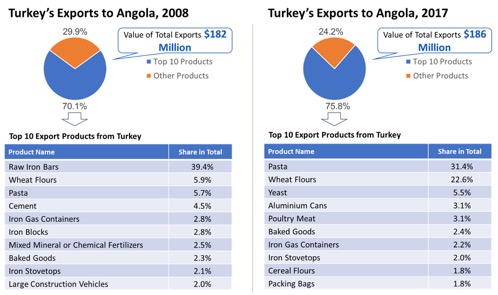 Read our latest article if you are interested in importing products and machines from Turkey.
Trade with African Countries
Read our latest article if you are interested in import and export activities with African countries.