South Africa is one of the most developed countries in the African continent. It is bordered by Namibia, Botswana, Zimbabwe, Mozambique, Swaziland and Lesotho. Its population is 57 million and has $350 billion GDP, second after Nigeria. South Africa is one of the founding members of the African Union.
South Africa became an independent country in 1931 from the United Kingdom. Its official language is English, however there are local languages in specific regions. Its capital city is Cape Town, and Johannesburg is one of the biggest cities and economic hubs. South Africa is the headquarter of major African corporations, such as MTN Group and Sasol.
China is the most influential trade partner of South Africa. China has the highest share both in imports and exports. The most important export products of South Africa are precious metals such as gold and diamond.South Africa has a positive trade balance, it exports more than it imports.
In South Africa, there have already been big-scale investments of Turkish companies. For example, Arcelik bought Defy, a South African home appliances company, for 324 million dollars in 2011. There are also a considerable number of Turkish textile and mining companies in South Africa.The value of the Turkish investments in South Africa is more than $500 Million. 
Below, you can see the fact sheet, macroeconomic outlook and trade relations of South Africa with Turkey.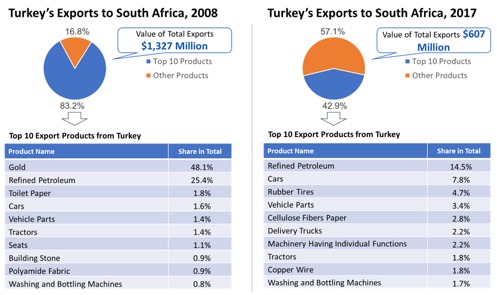 Read our latest article if you are interested in importing products and machines from Turkey.
Trade with African Countries
Read our latest article if you are interested in import and export activities with African countries.