Ivory Coast (Côte d'Ivoire) is located in the West Africa and it is bordered by Guinea, Liberia, Burkina Faso, Mali and Ghana. Ivory Coast's population is 24 million and its GDP is $40 Billion.
Ivory Coast gained independence from France in 1960. French is the official language, however there are 78 spoken local languages in Ivory Coast. Its capital city is Yamoussoukro. Its largest and commercial city is Abidjan and its population is around 4.5 million.
Ivory Coast's main import partner is China with 20% of total imports. China is followed by France and Nigeria. The economy of Ivory Coast relies on agricultural and food products. Around 70% of all exports is related with the food sector. Ivory Coast is also one of the leading rubber producers. 
The first Turkish Embassy in Abidjan was opened in 2009, however the diplomatic relations were established in 1964 thanks to the embassy in Dakar, Senegal. Turkish exports to Ivory Coast increased significantly in the last 10 years from $47 Million to $142 Million. The exports are concentrated in the construction materials and food sector. Ivory Coast is an important country for food producers thanks to their production of cocoa beans, coconuts and cashews.
Below, you can see the fact sheet, macroeconomic outlook and trade relations of Ivory Coast with Turkey.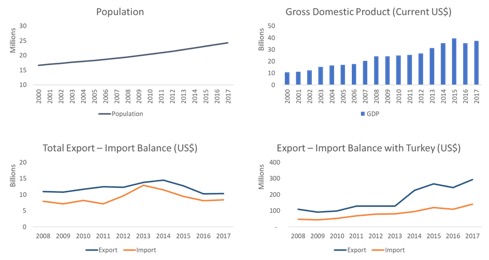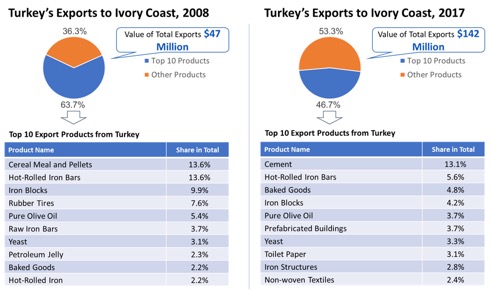 Read our latest article if you are interested in importing products and machines from Turkey.
Trade with African Countries
Read our latest article if you are interested in import and export activities with African countries.