The Republic of Ghana is located in the West Africa and it is bordered by Ivory Coast, Burkina Faso and Togo. Ghana's population is 29 million and its GDP is $47 Billion. Ghana is a member state of the Non-Aligned Movement, the African Union, the Economic Community of West African States (ECOWAS), Group of 24 and the Commonwealth of Nations.
Ghana gained independence from the United Kingdom in 1957 and current constitution was established in 1992. English is the official language, however there are 20 recognized national languages. Its capital city is Accra. 
Ghana's main import partner is China with 23% of total imports. China is followed by the United States with 8% share. Ghana has gold resources and gold accounted for 49% of total exports in 2017. crude petroleum and cococa beans also play important role in Ghana's economy. 
The first Turkish Embassy in Accra was opened in 1964. Turkish foreign direct investment in Ghana is around $500 Million and it is expected to increase with new trade agreements. Turkish businessmen visit Ghana on many occasions to explore opportunities. Turkish construction companies have ongoing projects in Ghana such as Kotoka International Airport. Turkish importers can benefit from the cocoa business in Ghana.
Below, you can see the fact sheet, macroeconomic outlook and trade relations of Ghana with Turkey.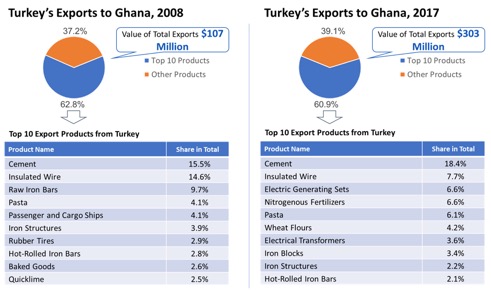 Read our latest article if you are interested in importing products and machines from Turkey.
Trade with African Countries
Read our latest article if you are interested in import and export activities with African countries.