The Republic of Zimbabwe is located in South Africa and it is bordered by South Africa, Botswana, Zambia and Mozambique. The population of Zimbabwe is 16 million and its GDP is $18 Billion.
Zimbabwe gained independence from the United Kingdom in 1965 and the current constitution is effective since 2013. English is the official language. Its capital city is Harare with a population of around 1.5 million people. Zimbabwe experienced hyperinflation in the 1990s and it does not have its own currency. Instead, they are using United States Dollar, South African Rand and other major currencies.
Zimbabwe's largest trade partners are China and South Africa. Zimbabwe exports 44% of its products to China. On the other hand, 62% of its imports is from South Africa. Tobacco farming is an important driver of Zimbabwe's economy. There are also precious metal resources such as diamonds and other mineral mines, such as chromium.
Turkey and Zimbabwe signed a memornadum of understanding in 2017 to deepen trade and investment relations. Turkey aims to improve its commercial relations with Africa and  increase the share of Turkish companies on the African continent. The number of Turkish business councils with African countries has reached 41 by 2017. Zimbabwe is also one of the target countries for Turkish exporting companies.
Below, you can see the fact sheet, macroeconomic outlook and trade relations of Zimbabwe with Turkey.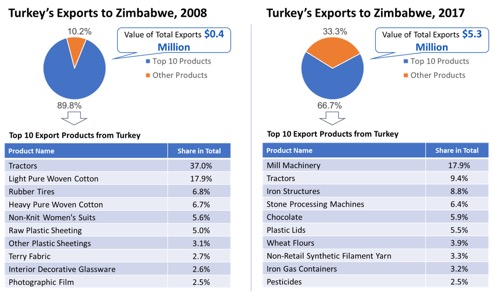 Read our latest article if you are interested in importing products and machines from Turkey.
Trade with African Countries
Read our latest article if you are interested in import and export activities with African countries.
Share this page with your network