The Republic of Zambia is located in South-Central Africa and it is bordered by Democratic Republic of Congo, Malawi, Mozambique, Zimbabwe, Botswana and Tanzania. The population of Zambia is 17 million and its GDP is $25 Billion.
Zambia gained independence from the United Kingdom in 1964 and the current constitution is effective since 2016. English is the official language. Its capital city is Lusaka with a population of around 2 million people. The headquarter of Common Market for Eastern and Southern Africa (COMESA) is located in Lusaka.
Zambia's largest trade partners are Switzerland, China and South Africa. Zambia also has strong commercial relations with its border countries. It imports 58% of its products from other African countries. Zambia's economy is driven by copper mining and processing. 74% of total exports is raw and refined copper.
Turkish Embassy in Zambia was opened very recently in 2011. Before the opening of embassy, Turkish embassies in Nairobi and Pretoria are accredited to Zambia. DEIK and Turkish Exporters' Assembly are working closely with Zambian authorities to promote trade and investment between two countries. According to our research, construction sector has been developing rapidly in Zambia. Building and construction is the largest sector of Zambia comprising around 25% of the GDP and its growth rate is more than 10% each year. We advise Turkish companies to look for opportunities in contracting and construction materials.
Below, you can see the fact sheet, macroeconomic outlook and trade relations of Zambia with Turkey.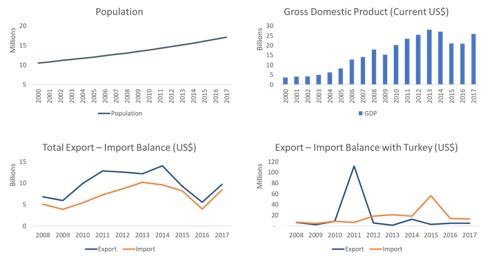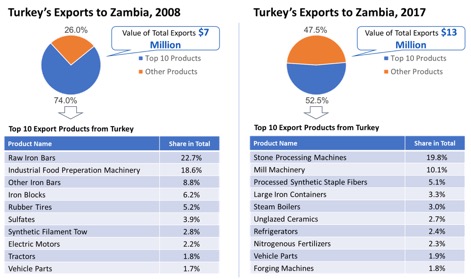 Read our latest article if you are interested in importing products and machines from Turkey.
Trade with African Countries
Read our latest article if you are interested in import and export activities with African countries.
Share this page with your network