Kenya is located in the East Africa and it is bordered by Ethiopia, Somalia, South Sudan, Uganda and Tanzania. Kenya's population is 50 million and its GDP is $74 Billion. Kenya is a member of United Nations, World Bank, International Monetary Fund, COMESA, East African Community trade bloc and other international organisations. 
Kenya gained independence from United Kingdom in 1963 and republic was declared in 1964. The official languages of Kenya are English and Swahili. Its capital city is Nairobi and its population is around 3 million. Nairobi is also the biggest city and center of commerce.
Kenya's main import partner is China with 23% of total imports. China is followed by India with 10% share. The country's economy heavily depends on agricultural products, especially tea. Textile industry is developing in Kenya in 2017, it accounted for 8% of total exports. 
The commercial relations between Kenya and Turkey have incerased significantly in the last 10 years. Total exports increased from $130 Billion to $190 Billion between 2008 and 2017. Fertilizers are the main export product of Turkey to Kenya with 26% of total exports in 2017. Kenya is an important market for Turkish companies which are willing to enter the East African market. It has one of the largest shipping ports and land connection to other major markets such as Uganda.
Below, you can see the fact sheet, macroeconomic outlook and trade relations of Kenya with Turkey.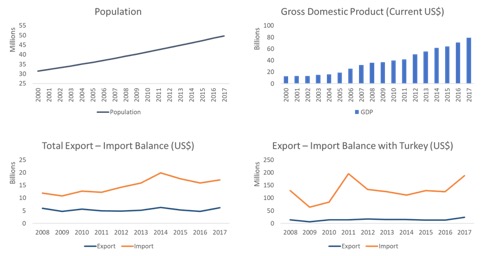 Read our latest article if you are interested in importing products and machines from Turkey.
Trade with African Countries
Read our latest article if you are interested in import and export activities with African countries.