Federal Democratic Republic of Ethiopia is located in the North East Africa and it is bordered by Eritrea, Djibouti, Somaila, Sudan, South Sudan and Kenya. Ethiopia's population is 105 million and its GDP is $81 Billion. Ethiopia is the headquarter of the African Union, the Pan African Chamber of Commerce and Industry, the United Nations Economic Commission for Africa, the African Standby Force, and many of the global NGOs focused on Africa. 
Ethiopia has an ancient history and the current constitution was established in 1995. The official language of Ethiopia is Amharic. Its capital city is Addis Ababa and its population is around 3.5 million. Eritrea seperated from Ethiopia in 1993 and declared its own independence.
Ethiopia's main trade partner is China both in imports and exports. 33% of goods is imported from China and 16% of goods is exported there. The country's economy heavily depends on agricultural products and precious metals. More than 60% of exports is agricultural products such as coffee and oily seeds. 11% of its exports is gold. Turkey is an important import partner with 4.2% share in 2017.
Turkey and Ethiopia has close economic relations. Most of Turkish foreign direct investment is in textiles sector and there are further efforts to increase Turkish investment in Ethiopia. Turkish companies invested more than $2.5 Billion in the country.  The construction sector and construction products play an important role in Turkish exports. Raw iron bars had 24% share in total exports in 2017.
Below, you can see the fact sheet, macroeconomic outlook and trade relations of Ethiopia with Turkey.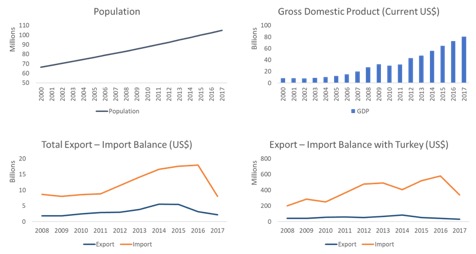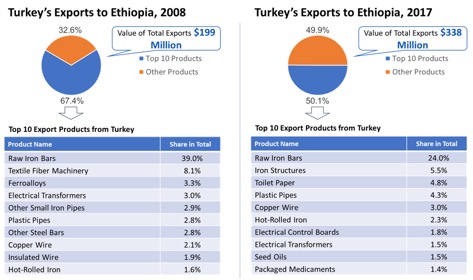 Read our latest article if you are interested in importing products and machines from Turkey.
Trade with African Countries
Read our latest article if you are interested in import and export activities with African countries.