The Democratic Republic of the Congo is located in the Central Africa and it is bordered by Republic of Congo, Central African Republic, South Sudan, Uganda, Rwanda, Burundi, Tanzania, Zambia and Angola. Congo's population is 82 million and its GDP is $37 Billion. Congo is a member state of the United Nations, Non-Aligned Movement, African Union, and COMESA.
Congo gained independence from Belgium in 1960 and current constitution was established in 2006. French is the official language, and there are 4 recognised national languages: Lingala, Kikongo, Swahili and Tshiluba. Its capital city is Kinshasa with 10 million population. 
Congo's main import and export partner is China. Congo has rich natural resources, including cobalt, copper and diamongs. crude petroleum and cocoa beans also play important role in Congo's economy. Mineral and metal exports' share in the economy is more than 80%.
The first Turkish Embassy in Kinshasa opened in 1974 and Congo opened its embassy in Ankara in 2011. Turkish exports to Congo increased significantly in the last 10 years from $9 Million to $27 Million. The exports are concentrated in the food sector, including chicken meat, pasta and yeast. Since Congo imports most of its food, companies in the food sector can focus on exporting to Congo.
Below, you can see the fact sheet, macroeconomic outlook and trade relations of Congo with Turkey.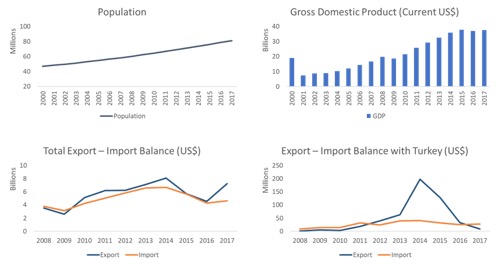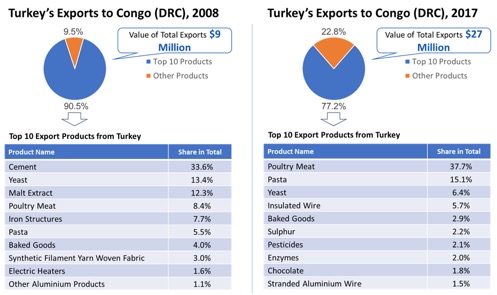 Read our latest article if you are interested in importing products and machines from Turkey.
Trade with African Countries
Read our latest article if you are interested in import and export activities with African countries.