The Republic of Uganda is located in East-Central Africa and it is bordered by Kenya, South Sudan, Democratic Republic of Congo, Rwanda and Tanzania. The population of Uganda  is 43 million and its GDP is $25 Billion.
Uganda gained independence from the United Kingdom in 1962 and the current constitution is effective since 1995. English and Swahili are the official languages. Its capital city is Kampala with a population of around 1.5 million people. The country has faced civil wars and conflicts since its independence. The current president came to power in 1986 after a guerilla war.
Uganda's main import and export partners are China and the United Arab Emirates. Uganda also has strong commercial relations with its border countries. It exports 45% of its products to African countries. Uganda's economy is driven by agriculture and gold mining. Coffee constitutes 20% of all exports, while gold constitutes 15%.
Turkish Embassy in Uganda was opened very recently in 2010. Since that time, the political and commercial relations developed quickly. Turkish companies have been looking for business opportunities in Uganda, and Turkish Exporters' Assembly organized the Turkey-Uganda Businss Forum in 2017. Uganda is expected to extract petroleum in 2020 and Turkish companis can find opportunities in the machinery and construction sector.
Below, you can see the fact sheet, macroeconomic outlook and trade relations of Uganda with Turkey.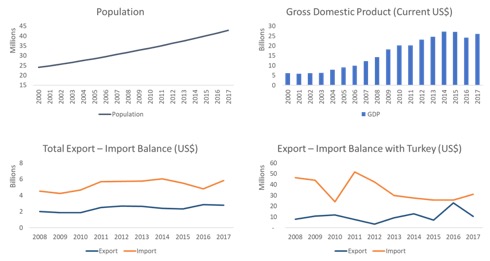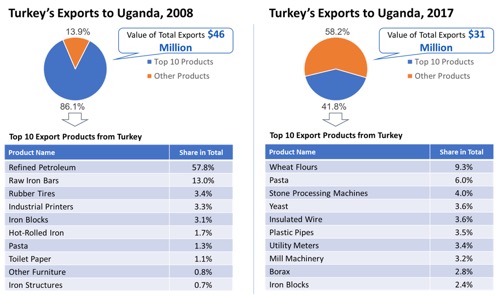 Read our latest article if you are interested in importing products and machines from Turkey.
Trade with African Countries
Read our latest article if you are interested in import and export activities with African countries.
Share this page with your network