Republic of Sudan is in North East Africa and it is bordered by Egypt, Eritrea, Ethiopia, Central African Republic, Chad and Libya. It has a population of 40 million people and its economic output is $117 Billion. Since 2011, Sudan has been facing political and military conflicts in its southern regions.
Sudan gained independence from the United Kingdom in 1956. The official language of Sudan is Arabic and English. Its capital city is Khartoum. Sudan has rich mineral resources, including gold, granite, gypsum, iron, kaolin, lead, manganese, mica and natural gas. South Sudan contained 80% of Sudan's former oil reserves.
Sudan's main import partners are China, United Arab Emirates and India. Turkey is also an important player with 4% share in total imports. Sudan mainly imports food, textiles and machinery. In return, Sudan exports gold, vegetable oil  and petroleum. Its biggest export partners are United Arab Emirates, China and India. 
Turkey and Sudan has close diplomatic and commercial relations. In 2017, Turkish delegation of more than 150 businessmen visited Sudan to explore opportunities. Sudan is an important export market for Turkey and Turkish exports reached $400 Million in 2017. Turkey mainly exports food products and electric machinery to Sudan. The population and economy of Sudan are growing very fast and there are many opportunities thanks to Sudans's large economy and close relations with Turkey.
Below, you can see the fact sheet, macroeconomic outlook and trade relations of Sudan with Turkey.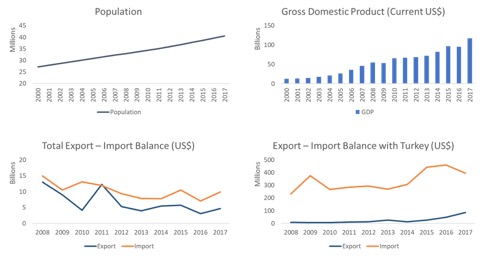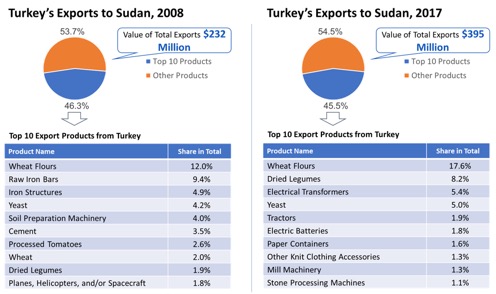 Read our latest article if you are interested in importing products and machines from Turkey.
Trade with African Countries
Read our latest article if you are interested in import and export activities with African countries.