The Republic of Cameroon is located in Central Africa and it is bordered by Nigeria, Chad, Central African Republic, Equatorial Guinea, Gabon and Republic of Congo. The population of Cameroon is 24 million and its GDP is $34 Billion.
Cameroon gained independence from France in 1960 and completed its union with former British Cameroon in 1961. English and French are the official languages. Its capital city is Yaounde and its largest city is Douala, which has a large shipping port and approximately 10 million population. The country has faced civil unrest between English-speaking regions and French-speaking regions in 2017.
Cameroon's main import and export partners are France and China. Cameroon has petroleum reserve and also has a forestry industry. The country is also specialized in producing cocoa beans and other cocoa products. It imports a wide range of products.
The international and commercial relations between Cameroon and Turkey accelerated after the visit of Cameroonian Presiden Paul Biya to Turkey in 2013. Since that year, multiple cooperation agreements have been signed, and there have been efforts to have a closer partnership. Turkish exports to Cameroon increased significantly in the last 10 years from $32 Million to $97 Million.
Below, you can see the fact sheet, macroeconomic outlook and trade relations of Cameroon with Turkey.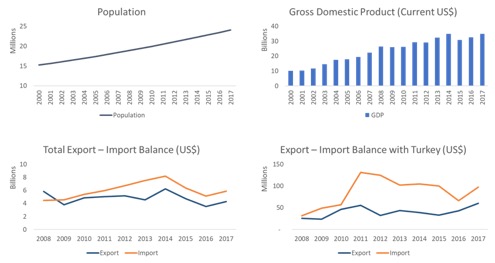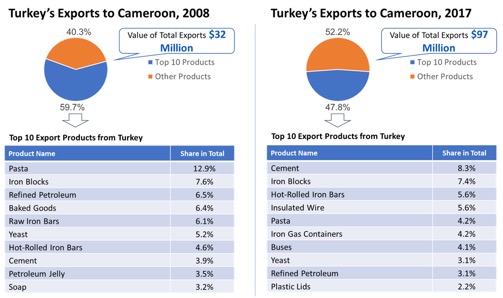 Read our latest article if you are interested in importing products and machines from Turkey.
Trade with African Countries
Read our latest article if you are interested in import and export activities with African countries.