Libya is located in North Africa and it is bordered by Egypt, Sudan, Chad, Niger, Algeria and Tunisia. The population of Libya is 6 million and its GDP is $51 Billion. Libya has the 10th-largest proven oil reserves in the world.Libya is a member of the United Nations, the Non-Aligned Movement, the Arab League, the OIC and OPEC.
Libya gained independence from Italy in 1947. Arabic is the official language, and Italian and Berber are widely spoken. Its capital city is Tripoli with approximately 1 million population. Libya had a civil war in 2011 between forces loyal to Muammar Gaddafi and those seeking to change his government.
Libya's main import and export partner is Italy. Turkey also has a considerable size in imports with 11% total share. Petroleum products play an important part in Libya's economy, 97% of exports are related with petroleum products. The civil wars in the 2010s affected the economy of the country and decreased its economic output.
Libya and Turkey have close historical and cultural relations. Turkey was the first country to appoint an Ambassador to Tripoli after the Libyan Civil War in 2011.Turkish companies, especially construction companies, had strong influence before the Civil War. After the civil war, the trade between Turkey and Libya decreased significantly. There are ongoing negotiations regarding the unfinished projects in Libya.
Below, you can see the fact sheet, macroeconomic outlook and trade relations of Libya with Turkey.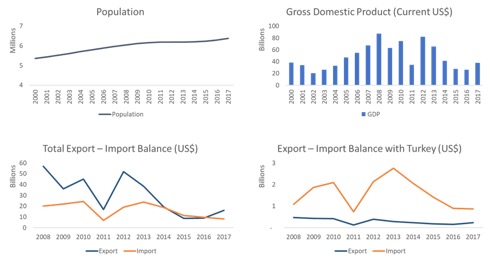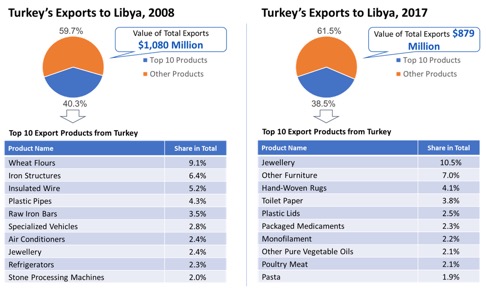 Read our latest article if you are interested in importing products and machines from Turkey.
Trade with African Countries
Read our latest article if you are interested in import and export activities with African countries.