Egypt is the third largest economy in Africa and it is located in the north part of the continent. Egypt has a population of around 100 million people and its GDP is $235 billion. Egypt has a strategic location and the Suez Canal is located in this country.
Egypt was part of the British Empire until it gained independence in 1922.  Its official language is Arabic and capital city is Cairo. The population of Cairo is 20 million and the population of the second biggest city, Alexandria, is around 5 million. Egypt's economic growth slowed down following the political events in 2011.
Egypt's biggest import partner is China and they import diverse range of products from them. Egypt especially imports industrial products and food. Egypt mainly exports its products to Middle East, Turkey and Europe. Their exports are concentrated in petroleum, gold and textiles.
Turkey has more than $2 Billion direct investment in Egypt and Turkish companies employ more than 75,000 Egyptian employees. Main sectors of Turkish companies operating in Egypt are textiles, automotive and financial services. There are ongoing initiatives for opening a Turkish-Egyptian University and industrial zones. There are important opportunities in exporting consumer goods and industrial products.
Below, you can see the fact sheet, macroeconomic outlook and trade relations of Egypt with Turkey.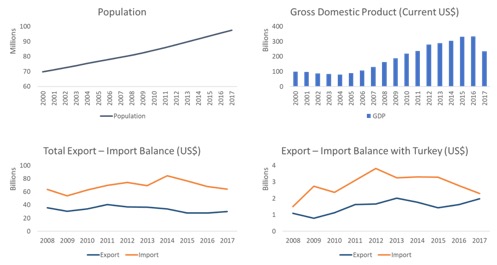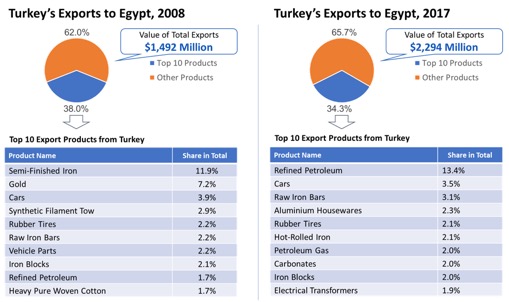 Read our latest article if you are interested in importing products and machines from Turkey.
Trade with African Countries
Read our latest article if you are interested in import and export activities with African countries.