The Republic of Tunisia is located in North Africa and it is bordered by Algeria and Libya. The population of Tunisia is 11 million and its GDP is $40 Billion. Tunisia is a member state of the United Nations, La Francophonie, the Union for the Mediterranean, the Common Market for Eastern and Southern Africa, the Arab Maghreb Union, the Arab League, the OIC, the Greater Arab Free Trade Area, the Community of Sahel-Saharan States, the African Union and the Non-Aligned Movement.
Tunisia gained independence from France in 1956 and republic was declared in 1957. Arabic is the official language, and French and Berber are widely spoken. Its capital city is Tunis with approximately 10 million population. The Tunisian Revolution in 2011 caused the economy to slow down, however the country maintained parliamentary system.
Tunisia's main import and export partner is France. Italy and Germany have also strong commercial relations. Tunisia does not have rich mineral resources and its economy relies on machinery production and textiles industry.
Tunisia and Turkey have historical and cultural relations. Turkish companies have strong presence in Tunisia both in exports and foreign direct investments. For example, TAV Airports is entitled to operate Enfidha-Hammamet Airport in Tunisia until May 2047. There are als other notable construction and textiles companies in the region.
Below, you can see the fact sheet, macroeconomic outlook and trade relations of Tunisia with Turkey.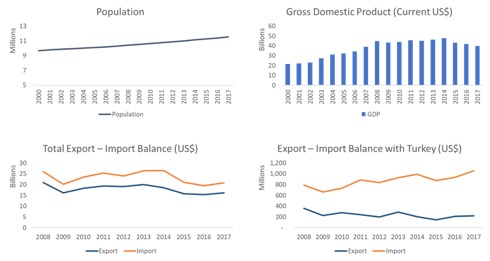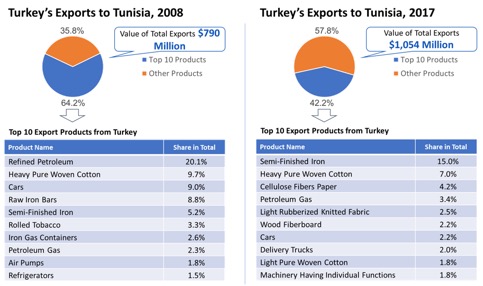 Read our latest article if you are interested in importing products and machines from Turkey.
Trade with African Countries
Read our latest article if you are interested in import and export activities with African countries.
Share this page with your network